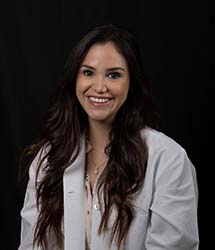 As a young girl, Dr. Aislen Yvette Medina realized she would excel in a career using her creative mind and detail-oriented personality. Dentistry was the perfect fit. Dr. Medina completed her undergraduate studies at the University of Texas – Pan American, then received her Doctor of Dental Surgery degree from UT Health San Antonio School of Dentistry.
What sets Dr. Medina apart from most other dentists is that she completed a two-year AEGD (Advanced Education in General Dentistry) residency at UT Health after dental school. She invested this extra time in her education because she wanted to provide excellent care and serve her patients to the best of her abilities. Dr. Medina is also certified in basic life support, advanced cardiovascular life support, and level 3 sedation.
Dr. Medina's patients love her because she listens to their needs and works hard to provide a high level of dental care. To eliminate any confusion or surprises during procedures, she explains each step. She wants her patients to feel comfortable and happy.
Making a difference in a patient's life, no matter how small or big, is what Dr. Medina loves most about her job. She enjoys being able to restore teeth and make smiles beautiful, transforming her patients' confidence and improving their quality of life. She believes dentistry yields rewards and challenges along with opportunities to help people and make communities healthier.
Away from the office, Dr. Medina spends much of her time with her family, friends, and dogs. She also enjoys working out, baking, and traveling.